Ad blocker interference detected!
Wikia is a free-to-use site that makes money from advertising. We have a modified experience for viewers using ad blockers

Wikia is not accessible if you've made further modifications. Remove the custom ad blocker rule(s) and the page will load as expected.
This article is about the offensive PSI in the Mother series. For the Special Move in the Super Smash Bros. series, see PK Thunder (Super Smash Bros.).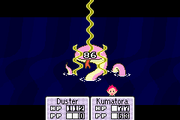 PK Thunder (PKサンダー PK Sandaa, translated as PSI Thunder in EarthBound) is an offensive PSI ability in all three Mother series games. It works on all enemies, hitting once or multiple times depending on the power level, and has the possibility of depleting one of the targets' Psychic Shield strength completely. When there are fewer targets for the ability, its accuracy is greatly reduced. PK Thunder is realized in EarthBound Beginnings by Ana, in EarthBound by Paula and Poo, and in Mother 3 by Kumatora. There is no "PK Thunder Ω" in EarthBound Beginnings.
Some enemies in EarthBound can use a "Crashing Boom Bang" attack; this is functionally identical to PK Thunder β.
Although it can still miss in Mother 3, it is considerably more accurate than in EarthBound.
In EarthBound BeginningsEdit
| | | | | | | |
| --- | --- | --- | --- | --- | --- | --- |
| Level | Users | PP Cost | Target | Effect | Comments | Description |
| α | Ana | 3 | To enemy | Deals 10 - 12 damage | Damages one enemy (Learned at level 2) | Damages one enemy for 10 - 12 damage. |
| β | Ana | 6 | To enemy | Deals 48 - 55 damage | Damages one enemy (Learned at level 9) | Damages one enemy for 48 - 55 damage. |
| γ | Ana | 12 | To enemy | Deals 48 - 55 damage | Damages all enemies (Learned at level 28) | Damages all enemies for 48 - 55 damage each. |
In EarthBoundEdit
| | | | | | | |
| --- | --- | --- | --- | --- | --- | --- |
| Level | Users | PP Cost | Target | Effect | Comments | Description |
| α | Paula, Poo | 3 | To enemy | Deals 60 - 180 damage | An enemy's Psychic Shield is immediately destroyed. | The enemy is thunder struck for about 120 points of damage. You may miss when there are few enemies. Eliminates a psychic or psychic power shield. |
| β | Paula, Poo | 7 | To enemy | Deals 60 - 180 damage (×2) | An enemy's Psychic Shield is immediately destroyed. | The enemy is thunder struck for about 120 points of damage two separate times. You may miss when there are few enemies. Eliminates a psychic or psychic power shield. |
| γ | Paula, Poo | 16 | To enemy | Deals 100 - 300 damage (×3) | An enemy's Psychic Shield is immediately destroyed. | The enemy is thunder struck for about 200 points of damage three separate times. You may miss when there are few enemies. Eliminates a psychic or psychic power shield. |
| Ω | Poo | 20 | To enemy | Deals 100 - 300 damage (×4) | An enemy's Psychic Shield is immediately destroyed. | The enemy is thunder struck for about 200 points of damage four separate times. You may miss when there are few enemies. Eliminates a psychic or psychic power shield. |
In Mother 3Edit
| | | | | | |
| --- | --- | --- | --- | --- | --- |
| Level | Users | PP Cost | Target | Effect | Description |
| α | Kumatora level 12 | 7 | To enemy | 120-130 points of thunder-elemental damage to a random enemy | Fires one thunderbolt. Occasionally causes paralysis. Damage can't be halved or reflected by any kind of PSI. |
| β | Kumatora level 32 | 15 | To enemy | 120-130 points of thunder-elemental damage to two random enemies | Fires two thunderbolts. Occasionally causes paralysis. Damage can't be halved or reflected by any kind of PSI. |
| γ | Kumatora level 49 | 21 | To enemy | 180-200 points of thunder-elemental damage to three random enemies | Fires three thunderbolts. Occasionally causes paralysis. Damage can't be halved or reflected by any kind of PSI. |
| Ω | Kumatora level 57 | 32 | To enemy | 180-200 points of thunder-elemental damage to four random enemies | Fires four thunderbolts. Occasionally causes paralysis. Damage can't be halved or reflected by any kind of PSI. |