This article is about the offensive PSI in the Mother series. For the Special Move in the Super Smash Bros. series, see PK Thunder (Super Smash Bros.).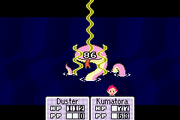 PK Thunder (Japanese: PKサンダー PK Thunder), known as PSI Thunder in EarthBound, is an offensive PSI ability in all three Mother series games. PK Thunder is realized in EarthBound Beginnings by Ana, in EarthBound by Paula and Poo, and in Mother 3 by Kumatora. PK Thunder is almost always effective against machines and mechanical chimeras. The Franklin Badge reflects PK Thunder back at its attacker in EarthBound and Mother 3.
In EarthBound and Mother 3, PK Thunder α strikes once, β strikes twice, γ strikes three times, and Ω strikes four times. Each strike can hit any enemy on the screen at random, however it has a chance to miss. Its accuracy increases with more enemies, and Ω has the highest probability to land because it strikes four times. Though it can still miss, Mother 3's PK Thunder is considerably more accurate than EarthBound's. PK Thunder is also capable of depleting one of the targets' PSI Shield strength completely.
PK Thunder works much differently in EarthBound Beginnings than it does in the rest of the series. The tiers only go up to γ instead of Ω, and it doesn't miss. Both α and β hit a single target of choice, and γ hits all enemies. When used by an enemy, its power is cut in half if an Earth Pendant or Sea Pendant is equipped. Unlike EarthBound and Mother 3, the Franklin Badge doesn't reflect PK Thunder; instead, it reflects the lethal PK Beam γ.
Some enemies in EarthBound can use a "Crashing Boom Bang" attack; this is functionally identical to PSI Thunder β.
In EarthBound Beginnings
| | | | | | | |
| --- | --- | --- | --- | --- | --- | --- |
| Level | Users | PP Cost | Target | Effect | Comments | Description |
| α | Ana  (level 2 | 3 | To enemy | Deals 10 - 12 damage | Damages one enemy (Learned at level 2) | Damages one enemy for 10 - 12 damage. |
| β | Ana  (level 9) | 6 | To enemy | Deals 48 - 55 damage | Damages one enemy (Learned at level 9) | Damages one enemy for 48 - 55 damage. |
| γ | Ana    (level 28) | 12 | To enemy | Deals 48 - 55 damage | Damages all enemies (Learned at level 28) | Damages all enemies for 48 - 55 damage each. |
In EarthBound
| | | | | | | |
| --- | --- | --- | --- | --- | --- | --- |
| Level | Users | PP Cost | Target | Effect | Comments | Description |
| α | Paula  (level 8),   Poo     (level 15) | 3 | To enemy | Deals 60 - 180 damage | An enemy's Psychic Shield is immediately destroyed. | The enemy is thunder struck for about 120 points of damage. You may miss when there are few enemies. Eliminates a psychic or psychic power shield. |
| β | Paula      (level 25),    Poo  (level 15) | 7 | To enemy | Deals 60 - 180 damage (×2) | An enemy's Psychic Shield is immediately destroyed. | The enemy is thunder struck for about 120 points of damage two separate times. You may miss when there are few enemies. Eliminates a psychic or psychic power shield. |
| γ | Paula (level 57),     Poo  (level 41) | 16 | To enemy | Deals 100 - 300 damage (×3) | An enemy's Psychic Shield is immediately destroyed. | The enemy is thunder struck for about 200 points of damage three separate times. You may miss when there are few enemies. Eliminates a psychic or psychic power shield. |
| Ω | Poo  (level 55) | 20 | To enemy | Deals 100 - 300 damage (×4) | An enemy's Psychic Shield is immediately destroyed. | The enemy is thunder struck for about 200 points of damage four separate times. You may miss when there are few enemies. Eliminates a psychic or psychic power shield. |
In Mother 3
| | | | | | |
| --- | --- | --- | --- | --- | --- |
| Level | Users | PP Cost | Target | Effect | Description |
| α | Kumatora (level 12) | 7 | To enemy | 120-130 points of thunder-elemental damage to a random enemy | Fires one thunderbolt. Occasionally causes paralysis. Damage can't be halved or reflected by any kind of PSI. |
| β | Kumatora (level 32) | 15 | To enemy | 120-130 points of thunder-elemental damage to two random enemies | Fires two thunderbolts. Occasionally causes paralysis. Damage can't be halved or reflected by any kind of PSI. |
| γ | Kumatora (level 49) | 21 | To enemy | 180-200 points of thunder-elemental damage to three random enemies | Fires three thunderbolts. Occasionally causes paralysis. Damage can't be halved or reflected by any kind of PSI. |
| Ω | Kumatora (level 57) | 32 | To enemy | 180-200 points of thunder-elemental damage to four random enemies | Fires four thunderbolts. Occasionally causes paralysis. Damage can't be halved or reflected by any kind of PSI. |